Our digital learning products consist of three different level training solutions
• Rapid training
• Gamified training
• Tailored training
Productized trainings are designed for consistent user experience and look and feel that is aligned with customer brand. We will support and co-create trainings together with customer so that are easy to execute and implement, and meet high quality standards pedagogically, visually and technically.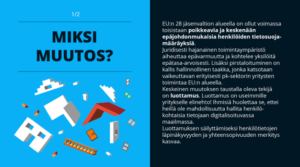 RAPID TRAINING
When the need is for fast and exact learning. And in some cases it is smart to divide big content for smaller, easily digested bits.

GAMIFIED TRAINING
Games are engaging because they support active participation. Induction is more fun and effective when you perform tasks in a real environment together with new workmates and collect points on the way.

TAILORED TRAINING
We will help managers to grow, sales personnel to sell more effectively, new employees to adapt to their new job. It starts with the present state analysis, setting the targets and choosing the right actions to reach them.